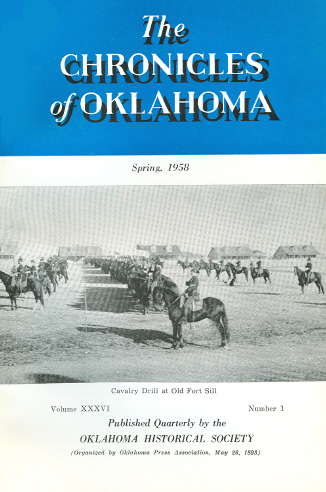 The Chronicles of Oklahoma Vol. 36-1 1958
Oklahoma Historical Society
$7.00
This issue includes: 'Old Fort Sill: The First Seven Years by Gillett Griswold, Troubles of Indian Traders by Frank F. Finney, Health Conditions in Indian Territory by Bernice Norman Crockett, Indian Missions of the Episcopal church in Oklahoma by Sam L. Botkin, Oklahoma's Philatelic year by George H. Shirk, History of Patterson Mercantile Company by Ella Robinson, The Magic City: Guthrie by From Kansas City Times, 1889, Oklahoma City Before the Run of 1889 by A.W. Durham, Early Day Crusader for Law and Order: Thompson B. Ferguson by Leslie A. McRill, Notes and Documents, Necrology, Minutes.
The Chronicles of Oklahoma, first issued in 1921 as the official journal of the OHS, is mailed to members and subscribers four times a year. Each issue contains at least five scholarly articles; subjects range from Indians and earliest settlement to railroads and the twentieth century. Each issue is well illustrated with historic photographs offering a visual picture of the past. Also included are book reviews, notes, documents, and minutes of the quarterly meetings of the OHS Board of Directors. Volumes 1-20 may be viewed online at the Oklahoma State University Electronic Publishing Center. '
---
You might also like...