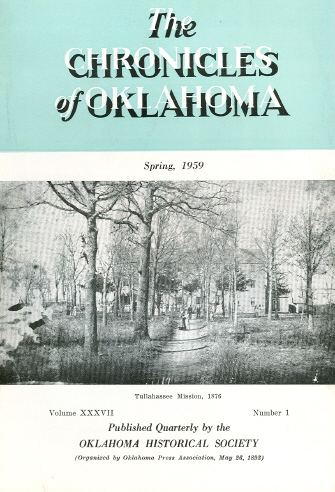 The Chronicles of Oklahoma Vol. 37-1 1959
Oklahoma Historical Society
$7.00
This issue includes: 'Samuel Austin Worcester: A Dedication by Muriel H. Wright, The Cold Water Army by Hope Holway, William Schenck Robertson by Althea Bass, Ann Eliza Worcester Robertson as a Linguist by Hope Holway, Samuel Worcester Robertson by Martin Wenger, Influences of the Cherokee National Seminaries by Ida Wetzel Tinnin, Campaigning with Sheridan: A Farrier's Diary by George H. Shirk, Notes and Documents, Book Reviews, Minutes.
The Chronicles of Oklahoma, first issued in 1921 as the official journal of the OHS, is mailed to members and subscribers four times a year. Each issue contains at least five scholarly articles; subjects range from Indians and earliest settlement to railroads and the twentieth century. Each issue is well illustrated with historic photographs offering a visual picture of the past. Also included are book reviews, notes, documents, and minutes of the quarterly meetings of the OHS Board of Directors. Volumes 1-20 may be viewed online at the Oklahoma State University Electronic Publishing Center. '
---
You might also like...