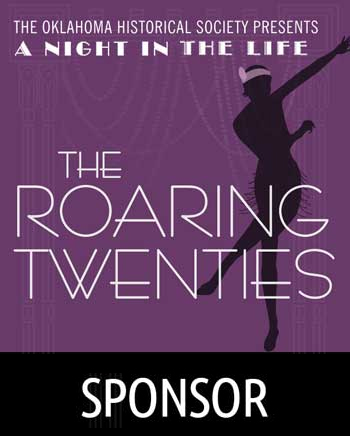 A Night in the Life: The Roaring Twenties Sponsorship - Flapper Level
$1500.00
Sponsors at this level will enjoy a signature drink named in your honor + table seating 8 with bubbly located in the speakeasy + general entry perks + name on all advertising
Sponsors will receive all perks including heavy hors d'oeuvres, live blues music at the barrelhouse, 1920s dance lessons, a green screen photo op, and costume accessory-making station. Sponsor tables are located in the exclusive glittering speakeasy night club features live jazz music and an open bar.
Join the Oklahoma Historical Society for an immersive evening in the roaring 1920s on Friday, October 20, 2017, from 7 pm to 10 pm. Held at the Oklahoma History Center, this fundraising event will boast three spaces: a Prohibition-era barrelhouse featuring live blues music; a mingling area with food, bar, and dance lessons; and an exclusive speakeasy featuring live jazz music and an open bar.
Enjoy impromptu live performances and live action vignettes that will make you feel like you have stepped back in time to the golden age of jazz. Put on your glad rags or come dressed as your favorite flapper or gangster.
Featuring: Harold Aldridge singing the blues at the Prohibition-era barrelhouse, Walter Taylor and Taylor Made Jazz playing jazz-era hits in the speakeasy, Oklahoma City University Dance Department dance hall tap performance, temperance movement protesters, Pretty Boy Floyd hold up, a police raid, and more!
Call 405-522-5202 or 405-522-0317 for more information.
---
You might also like...