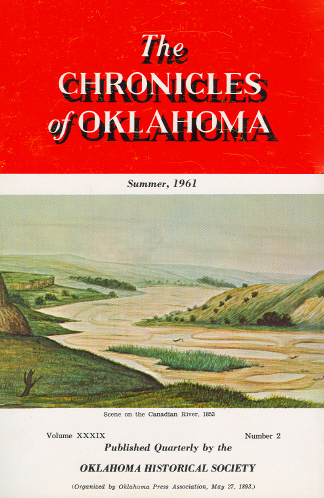 The Chronicles of Oklahoma Vol. 39-2 1961
Oklahoma Historical Society
$7.00
This issue includes: 'Tribute to Judge Baxter Taylor by Edward M. Box, Otis Hoover Richards by Glenn A. Welsch, Honorable Thomas P. Gore by Monroe Billington, Memorial Address: Oklahoma's Heritage by Orel Busby, Bridgeport by the Canadian by Chrystobel Berrong Poteet, In Dugouts and Sod Houses by Veda Giezentanner, A Pioneer Family in Old Greer County by Adelia Clifton, Sarah Ann Harlan by Muriel H. Wright, Segregation in Public Schools of Oklahoma Territory by Frank A Balyeat, Notes and Documents, Book Review, Minutes.
The Chronicles of Oklahoma, first issued in 1921 as the official journal of the OHS, is mailed to members and subscribers four times a year. Each issue contains at least five scholarly articles; subjects range from Indians and earliest settlement to railroads and the twentieth century. Each issue is well illustrated with historic photographs offering a visual picture of the past. Also included are book reviews, notes, documents, and minutes of the quarterly meetings of the OHS Board of Directors. Volumes 1-20 may be viewed online at the Oklahoma State University Electronic Publishing Center. '
---
You might also like...