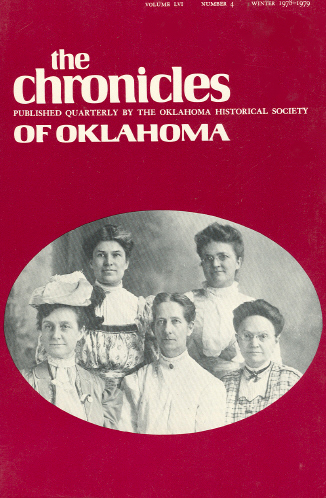 The Chronicles of Oklahoma Vol. 56-4 1978
Oklahoma Historical Society
$7.00
This issue includes: 'The Woman Suffrage Issue in the Oklahoma Constitutional Convention by Louise Boyd James, What is the Future for Railroad Branch Lines in Rural Areas? by Donovan L. Hofsommer, Tar and Feather Patriotism: The Suppression of Dissent in Oklahoma During World War I by James H. Fowler, II, On the White Man's Road: Lawrie Tatum and the Formative Years of the Kiowa Agency, 1869-1873 by T. Ashley Zwink, Ten-Barrel ''Whodunit'' at Red Fork by Joe Donald Roberts, The Exile of the Nez Perce in Indian Territory, 1878-1885 by Alan Osborne, Notes and Documents, Book Reviews, For the Record, Index.
The Chronicles of Oklahoma, first issued in 1921 as the official journal of the OHS, is mailed to members and subscribers four times a year. Each issue contains at least five scholarly articles; subjects range from Indians and earliest settlement to railroads and the twentieth century. Each issue is well illustrated with historic photographs offering a visual picture of the past. Also included are book reviews, notes, documents, and minutes of the quarterly meetings of the OHS Board of Directors. Volumes 1-20 may be viewed online at the Oklahoma State University Electronic Publishing Center. '
---
You might also like...