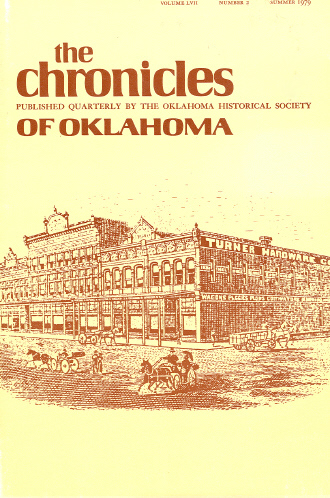 The Chronicles of Oklahoma Vol. 57-2 1979
Oklahoma Historical Society
$7.00
This issue includes: General Stores, Retail Merchants, and Assimilation: Retail Trade in the Cherokee Nation, 1838-1890 by Duncan M. Aldrich, A Civil War Experience of Some Arkansas Women in Indian Territory by Edited by LeRoy H. Fischer, Benson Park: Shawnee Citizens at Leisure in the Twentieth Century by Kenneth R. Bain, Rob Phillips, and Paul D. Travis, Government Policy and Indian Farming on the Cheyenne and Arapaho Reservation: 1869-1880 by William D. Pennington, The First Americans' Tribute to the First President by Janet Campbell, Troubled Times: Homesteading in short-grass Country, 1892-1900 by Michael H. Reggio, Colbert's Ferry by Ruth Ann Overbeck, Notes and Documents, Book Reviews, Oklahoma Books, For the Record.
The Chronicles of Oklahoma, first issued in 1921 as the official journal of the OHS, is mailed to members and subscribers four times a year. Each issue contains at least five scholarly articles; subjects range from Indians and earliest settlement to railroads and the twentieth century. Each issue is well illustrated with historic photographs offering a visual picture of the past. Also included are book reviews, notes, documents, and minutes of the quarterly meetings of the OHS Board of Directors. Volumes 1-20 may be viewed online at the Oklahoma State University Electronic Publishing Center.
---
You might also like...