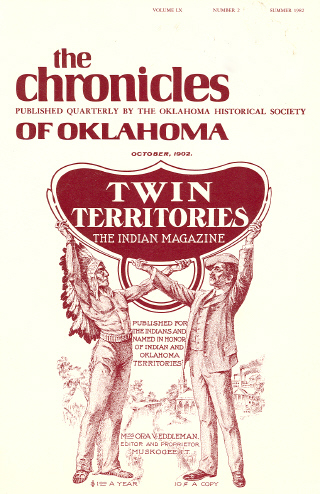 The Chronicles of Oklahoma Vol. 60-2 1982
$7.00
This issue includes: An Odyssey into Texas: William Quesenbury with the Cherokees by Lee David Benton, Twin Territories: The Indian Magazine and its editor, Ora Eddleman Reed by Daryl Morrison, Attempted Secession in Oklahoma : The Four-Mile Strip, 1935-1950 by Mary S. Redmond, The Study of Oklahoma History during the Territorial Period: An Alternative Methodological Approach by Richard C. Rohrs, Exodus from Indian Territory: The Evolution of Cotton Culture in Eastern Oklahoma by Gregory R. Graves, 'Okie Boat': The U.S.S. Oklahoma City by Mark K. Megehee and Devin Waggoner, Notes and Documents, Book Reviews, Oklahoma Books, For the Record.
The Chronicles of Oklahoma, first issued in 1921 as the official journal of the OHS, is mailed to members and subscribers four times a year. Each issue contains at least five scholarly articles; subjects range from Indians and earliest settlement to railroads and the twentieth century. Each issue is well illustrated with historic photographs offering a visual picture of the past. Also included are book reviews, notes, documents, and minutes of the quarterly meetings of the OHS Board of Directors. Volumes 1-20 may be viewed online at the Oklahoma State University Electronic Publishing Center.
---
You might also like...