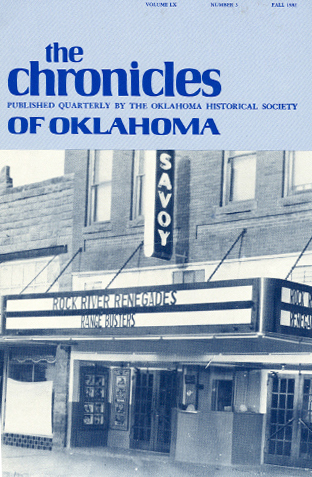 The Chronicles of Oklahoma Vol. 60-3 1982
$7.00
This issue includes: The Only Show in Town: Ellen Whitmore Mohrbacker's Savoy Theatre by Doris Hinson Pieroth, Dead Woman's Crossing: The Legacy of a Territorial Murder by Sue Woolf Brenner, Rifles and Ruts: Army Road Builders in Indian Territory by William P. Corbett, Around Tahlequah Council Fires: The Life of Oklahoma Historian T.L. Ballenger by Brad Agnew, Cherokee Planters, Black Slaves, and African Colonization by Theda Perdue, Myrtle Archer McDougal: Leader of Oklahoma's 'Timid Sisters' by Marilyn Hoder-Salmon, Notes and Documents, Book Reviews, Oklahoma Books, For the Record.
The Chronicles of Oklahoma, first issued in 1921 as the official journal of the OHS, is mailed to members and subscribers four times a year. Each issue contains at least five scholarly articles; subjects range from Indians and earliest settlement to railroads and the twentieth century. Each issue is well illustrated with historic photographs offering a visual picture of the past. Also included are book reviews, notes, documents, and minutes of the quarterly meetings of the OHS Board of Directors. Volumes 1-20 may be viewed online at the Oklahoma State University Electronic Publishing Center.
---
You might also like...