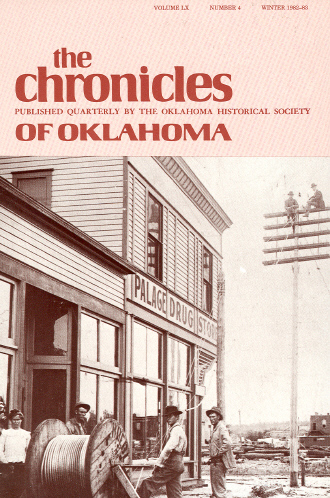 The Chronicles of Oklahoma Vol. 60-4 1982
Oklahoma Historical Society
$7.00
This issue includes: Without Purse or Scrip: A Missionary in the Territory by Dale Z. Kirby, Oklahoma Territory and the National Archives: A Historian's Paradise by Berlin Basil Chapman, Portrait of a Wichita Village, 1808 by Elizabeth A.H. John, A Tradition of Political Power: Congressional Committee Chairmen from Oklahoma, 1945-1972 by Phillip A. Grant, Electricity for a Region: The Southwestern Power Administration by Jeanette Ford, ''Everyone Got His Two Cents Worth'': Leslie Gordon Niblack and the Guthrie Daily Leader by Dennie Hall, Notes and Documents, Book Reviews, For the Record, Index.
The Chronicles of Oklahoma, first issued in 1921 as the official journal of the OHS, is mailed to members and subscribers four times a year. Each issue contains at least five scholarly articles; subjects range from Indians and earliest settlement to railroads and the twentieth century. Each issue is well illustrated with historic photographs offering a visual picture of the past. Also included are book reviews, notes, documents, and minutes of the quarterly meetings of the OHS Board of Directors. Volumes 1-20 may be viewed online at the Oklahoma State University Electronic Publishing Center.
---
You might also like...