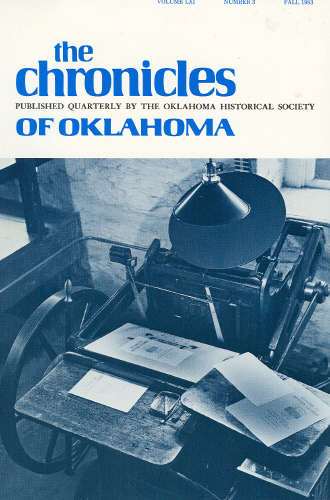 The Chronicles of Oklahoma Vol. 61-3 1983
Oklahoma Historical Society
$7.00
This issue includes: Back the Attack:' The Sale of War Bonds in Oklahoma by Carol H. Welsh, Kate's Quarter Section: A Woman in the Cherokee Strip by Henry Kilian Goetz, No Wild Venture: The State Capital Publishing Building by Lloyd C. Lentz, III, The Legacy of Caleb Starr by Patricia W. Lockwood, The Black Press in Oklahoma: The Formative Years, 1889-1907 by Nudie Williams, Book Reviews, Necrology, For the Record.
The Chronicles of Oklahoma, first issued in 1921 as the official journal of the OHS, is mailed to members and subscribers four times a year. Each issue contains at least five scholarly articles; subjects range from Indians and earliest settlement to railroads and the twentieth century. Each issue is well illustrated with historic photographs offering a visual picture of the past. Also included are book reviews, notes, documents, and minutes of the quarterly meetings of the OHS Board of Directors.
---
You might also like...