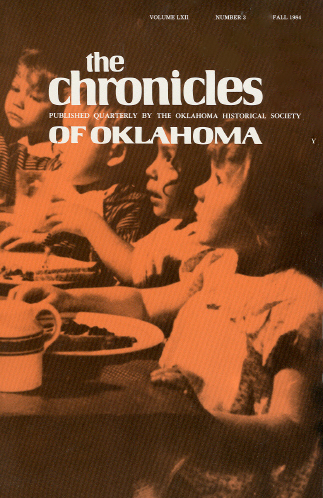 The Chronicles of Oklahoma Vol. 62-3 1984
Oklahoma Historical Society
$7.00
This issue includes: A Progressive from Oklahoma: Senator Robert Latham Owen, Jr. by Kenny L. Brown, War for Survival: The Wichita Indians during the Civil War by Stan Hoig, A Wily Customer: The Life and Crimes of Ben Cravens by Paul English, New Deal for Oklahoma's Children: Federal Day Care Centers, 1933-1946 by George N. Otey, The Sacramental Wine Case by Keith Tolman, Notes and Documents, Book Reviews, For the Record.
The Chronicles of Oklahoma, first issued in 1921 as the official journal of the OHS, is mailed to members and subscribers four times a year. Each issue contains at least five scholarly articles; subjects range from Indians and earliest settlement to railroads and the twentieth century. Each issue is well illustrated with historic photographs offering a visual picture of the past. Also included are book reviews, notes, documents, and minutes of the quarterly meetings of the OHS Board of Directors.
---
You might also like...