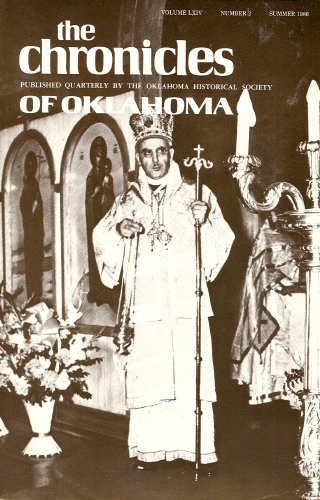 The Chronicles of Oklahoma Vol. 64-2 1986
Oklahoma Historical Society
$7.00
This issue includes: Oklahoma: Land of the Drifter: Deterrents to Sense of Place by Arrell Morgan Gibson, From the Hills of Lebanon: The Syrian-Lebanese in Oklahoma by Tom Caldwell, Heavenly Harmony: The WPA Symphony Orchestra 1937-1942 by Carol Wilmoth, Diana, Tiana, or Talihina?: The Myth and Mystery of Sam Houston's Cherokee Wife by Stan Hoig, Judge John Martin: First Chief Justice of the Cherokees by Patricia Lockwood, 'Save the Farmer': Oklahoma Congressman and Farm Relief Legislation, 1924-1928 by Phillip A. Grant, Jr., Book Reviews, Notes and Documents, For the Record.
The Chronicles of Oklahoma, first issued in 1921 as the official journal of the OHS, is mailed to members and subscribers four times a year. Each issue contains at least five scholarly articles; subjects range from Indians and earliest settlement to railroads and the twentieth century. Each issue is well illustrated with historic photographs offering a visual picture of the past. Also included are book reviews, notes, documents, and minutes of the quarterly meetings of the OHS Board of Directors.
---
You might also like...