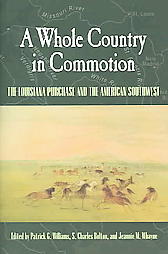 A Whole Country in Commotion: The Louisiana Purchase and the American Southwest
Patrick G. Williams, S. Charles Bolton, Jeannie M.
$19.95
Bringing together the work of prominent scholars and rising stars in southern, western, and Indian history, 'A Whole Country in Commotion' explores lesser-known aspects of one of the better-known episodes in U.S. history. These original essays highlight the 'commotion' that the purchase stirred up among nations, among Louisiana residents and newcomers, and even those who remained east of the Mississippi. 228 pages. Paperback.
---
You might also like...