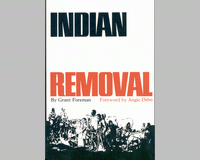 Indian Removal
Grant Foreman
$19.95
Foreword by Angie Debo
Originally published in 1932 on the date of the hundredth anniversary of the arrival in Oklahoma of the first Indians as a result of the United States government's relocation of the Five Civilized Tribes, Indian Removal remains today the definitive book in its field.
Softcover. 423 pages.
---
You might also like...