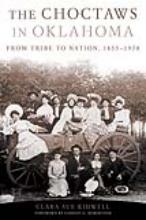 The Choctaws in Oklahoma
Clara Sue Kidwell
$19.95
The Choctaws in Oklahoma begins with the Choctaws' removal from Mississippi to Indian Territory in the 1830s and then traces the history of the tribe's subsequent efforts to retain and expand its rights and to reassert tribal sovereignty in the late twentieth century.
Softcover. 320 pages.
---
You might also like...