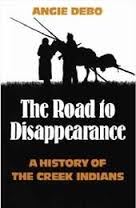 The Road to Disappearance: A History of the Creek Indians
Angie Debo
$24.95
This is the compelling story of the Creek people from their aboriginal beginnings to the loss of their political independence during the first decade of the twentieth century. A minority people, the Creeks clung against all odds to their native customs, language, and institutions. This is a chronicle of the internal life of the tribe--their folkways, religious beliefs, politics, wars, privations and persecutions.
Softcover. 399 pages.
---
You might also like...