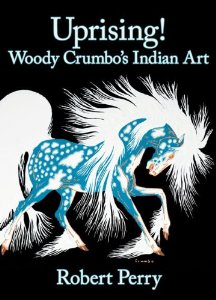 Uprising!: Woody Crumbo's Indian Art
Robert Perry
$36.00
The life of Woodrow "Woody" Crumbo (1912–1989) parallels the twentieth-century evolution of American Indian art. An accomplished Native dancer, flutist, silversmith, and poet, Crumbo is perhaps best known today for his oil paintings and silk screens—revolutionary artworks that were denigrated by some critics at first but that helped move Indian art to museums of fine art, as well as its markets. Now the life story of an Indian artist who often went against the grain is told by an accomplished Indian storyteller.
Hardcover. 317 pages.
---
You might also like...