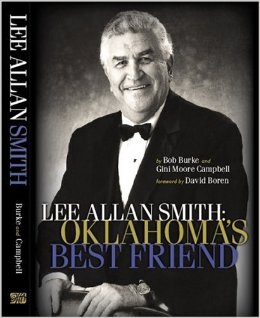 Lee Alan Smith: Oklahoma's Best Friend
Bob Burke and Gini Moore Campbell
$5.00
Foreward by David Boren
From the book jacket:
"As a college student and Air Force officer, Lee Allan Smith was a world-class planner of special events that entertained people. That early training prepared him to be Oklahoma's greatest promoter and man behind the scenes of the most magnificent galas in state history. The Stars and Stripes shows, Oklahoma's Diamond Jubilee, the Olympic Festival, the reopening of the stage play Oklahoma!, the reopening of the Civic Center Music Hall, the dedication of the State Capitol dome, and the celebration of the Oklahoma Centinnial could not have been as majestic without Lee Allan's leadership. Lee Allan only knows one size of celebration--huge."
Hardcover. 302 pages.
---
You might also like...