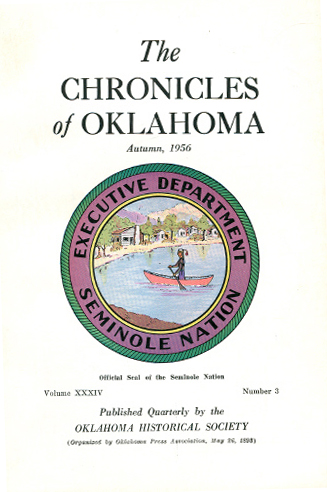 The Chronicles of Oklahoma Vol. 34-3 1956
Oklahoma Historical Society
$7.00
This issue includes: 'Seal of the Seminole Nation by the Editor, The Jumper Family of the Seminole Nation by Caroline Thomas Foreman, The Cultural Relations Between Two Pioneer Communities by T.L. Ballenger, Some Personal Reminiscences about Lynn Riggs by Joseph Benton, Virgil Andrew Wood, M.D. by Mrs. H. Robert Wood, The Founding of Oklahoma A.M. College by Alfred Edwin Jarrell, Custer's Hunting Horse by Mary Ellen Ryan, Notes and Documents, Necrology, Minutes.
The Chronicles of Oklahoma, first issued in 1921 as the official journal of the OHS, is mailed to members and subscribers four times a year. Each issue contains at least five scholarly articles; subjects range from Indians and earliest settlement to railroads and the twentieth century. Each issue is well illustrated with historic photographs offering a visual picture of the past. Also included are book reviews, notes, documents, and minutes of the quarterly meetings of the OHS Board of Directors. Volumes 1-20 may be viewed online at the Oklahoma State University Electronic Publishing Center. '
---
You might also like...