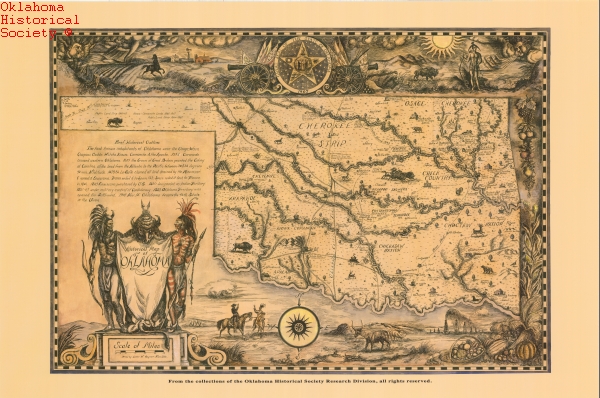 Raymer Map, Early 1900s: 24'' X 36'' and 11''X14'' Prints
$10.00
This hand drawn map was crafted by Oklahoman Lester Raymer of Alva. In 1939 the Daughters of the American Revolution, who commissioned the work, donated the map to the Oklahoma Historical Society. On the map Raymer estimated the location of many historic sites, battles, roadways, and exploration routes.
Another cool thing about the map is that it was donated along with a painting by Mrs. Louise Fluke. That painting would be used to design the state flag of Oklahoma (below is the description of the two donations).
At a meeting of representatives of the Oklahoma Society of the Daughters of the American Revolution at the Historical Building on May 10, Mrs. Frank Gordon Munson, Alva, state historian of the D. A. R., told members about the celebration being planned to commemorate Coronado's passing through Oklahoma. On behalf of the state society she presented to the Oklahoma Historical Society the following: A frame containing the Oklahoma state flag painted and described by Mrs. Louise F. Fluke of Ponca City; a historical map of Oklahoma drawn by Lester W. Raymer of Alva, and a frame enclosing the object, creed, pledge, and belief of the National Society of the D. A. R., prepared by Mrs. Fluke.- The Chronicles of Oklahoma Volume 17, No. 3 September, 1939.
(Image #Hismap.0001)
---
You might also like...