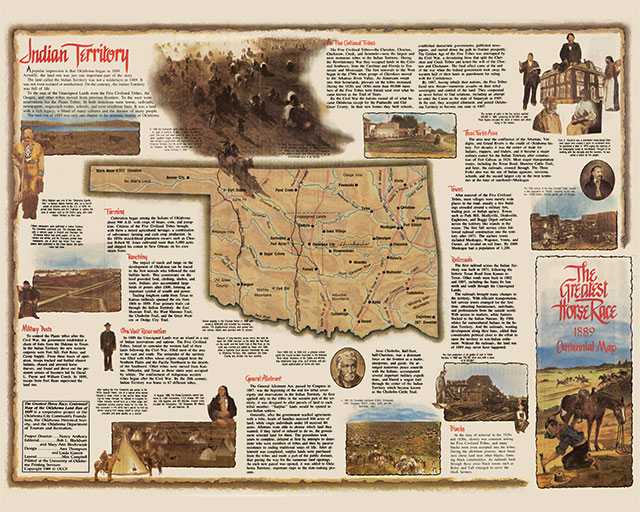 Indian Territory at the time of the 1889 Land Run
$10.00
Indian Territory Map and descriptive text detailing the territory at the time of the 1889 Land Run.
In the late nineteenth century the federal government began to assume more control over events transpiring in Indian country. In March 1889 a law established a federal court system based at Muskogee, assuming judicial authority and jurisdiction that had been exercised since the 1834 Trade Act by the Western District of Arkansas. The 1889 measure for the first time specified enclosed boundaries for the Indian Territory, now officially reduced to an area bounded by Texas on the south, Arkansas and Missouri on the east, Kansas on the north, and New Mexico Territory on the west. Soon this area was reduced again when Oklahoma Territory was created from part of it by the Organic Act in May 1890. A governor was appointed, and a two-house territorial assembly and a judicial system were set up. A bona fide territory of the United States, Oklahoma Territory would be eligible for statehood if its population grew large enough and if its leaders followed the process prescribed by federal law. The Oklahoma Territory Organic Act even more closely defined Indian Territory, reducing it to slightly more than the eastern half of the present state. In the 1905 Sequoyah Convention, Indian leaders sought to bypass the territorial process and bring about separate statehood for Indian Territory. However, with the 1907 union of the Indian nations and Oklahoma Territory as the State of Oklahoma, a separate, Indian-dominated territory or state was no longer viable. During the twentieth century the generic term "Indian Territory" came to be used by historians, genealogists, and the public to represent the entire Oklahoma region during the prestatehood period.
---
You might also like...