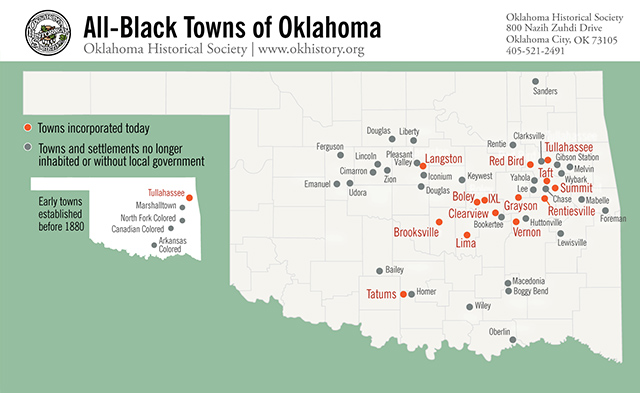 All-Black Towns Map
$10.00
The All-Black towns of Oklahoma represent a unique chapter in American history. Nowhere else, neither in the Deep South nor in the Far West, did so many African American men and women come together to create, occupy, and govern their own communities. From 1865 to 1920 African Americans created more than fifty identifiable towns and settlements, some of short duration and some still existing at the beginning of the twenty-first century.
All-Black towns grew in Indian Territory after the Civil War when the former slaves of the Five Tribes settled together for mutual protection and economic security. When the United States government forced American Indians to accept individual land allotments, most Indian "freedmen" chose land next to other African Americans. They created cohesive, prosperous farming communities that could support businesses, schools, and churches, eventually forming towns. Entrepreneurs in these communities started every imaginable kind of business, including newspapers, and advertised throughout the South for settlers. Many African Americans migrated to Oklahoma, considering it a kind of "promise land."
Events of the 1920s and 1930s spelled the end for most black communities. The All-Black towns in Oklahoma were, for the most part, small agricultural centers that gave nearby African American farmers a market. Prosperity generally depended on cotton and other crops. The Great Depression devastated these towns, forcing residents to go west and north in search of jobs. These flights from Oklahoma caused a huge population decrease in black towns.
As people left, the tax base withered, putting the towns in financial jeopardy. In the 1930s many railroads failed, isolating small towns in Oklahoma from regional and national markets. As a result, many of the black towns could not survive. During lean years whites would not extend credit to African Americans, creating an almost impossible situation for black farmers and businessmen to overcome. Even one of the most successful towns, Boley, declared bankruptcy in 1939. Today, only thirteen historical All-Black towns still survive, but their legacy of economic and political freedom is well remembered. A fourteenth town, IXL, is new, incorporated in 2001.
---
You might also like...