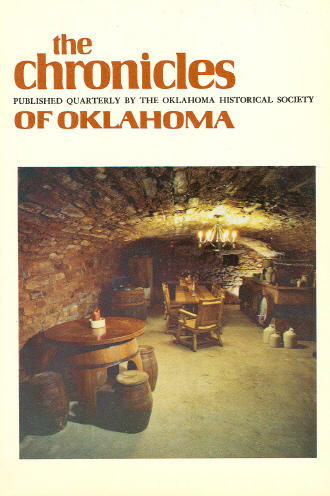 The Chronicles of Oklahoma Vol. 55-2 1977
Oklahoma Historical Society
$7.00
This issue includes: 'The Fairchild Winery by LeRoy H. Fischer, The End of the Savage: Indian Policy in the United States Senate, 1880-1900 by Frederick E. Hoxie, Townsite Speculation and the Origin of Boley, Oklahoma by Kenneth Marvin Hamilton, Oklahoma's House Delegation in the Sixty-first Congress: Progressive or Conservative? by George O. Carney, Relations Between the Quapaw National Council and the Roman Catholic Church, 1876-1927 by Ralph E. Curtis, Jr., Notes and Documents, Book Reviews, Oklahoma Books, For the Record.
The Chronicles of Oklahoma, first issued in 1921 as the official journal of the OHS, is mailed to members and subscribers four times a year. Each issue contains at least five scholarly articles; subjects range from Indians and earliest settlement to railroads and the twentieth century. Each issue is well illustrated with historic photographs offering a visual picture of the past. Also included are book reviews, notes, documents, and minutes of the quarterly meetings of the OHS Board of Directors. Volumes 1-20 may be viewed online at the Oklahoma State University Electronic Publishing Center. '
---
You might also like...