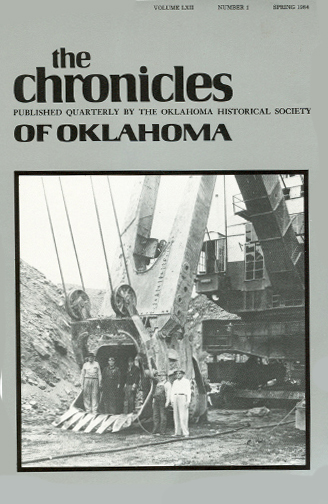 The Chronicles of Oklahoma Vol. 62-1 1984
Oklahoma Historical Society
$7.00
This issue includes: Cattle, Coal, and Indian Land: A Tradition of Mining in Southeastern Oklahoma by Michael J. Hightower, A Refuge for the Longhorn by Judy Kaye O'Dell, Justice is our Battle Cry: The Territorial Free Home League by Mary Ann Blochowiak, The Battle of the Washita, Revisited: A Journey to a Historic Site in 1933 by Howard F. Van Zandt, 'Harmony and Cooperation': Robert A. Hefner, Mayor of Oklahoma City by Clifford E. Trafzer, Book Reviews, Notes and Documents, For the Record.
The Chronicles of Oklahoma, first issued in 1921 as the official journal of the OHS, is mailed to members and subscribers four times a year. Each issue contains at least five scholarly articles; subjects range from Indians and earliest settlement to railroads and the twentieth century. Each issue is well illustrated with historic photographs offering a visual picture of the past. Also included are book reviews, notes, documents, and minutes of the quarterly meetings of the OHS Board of Directors.
---
You might also like...