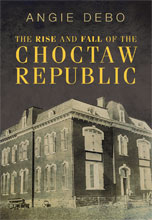 The Rise and Fall of the Choctaw Republic
Angie Debo
$24.95
Here is the story of the Choctaws as only Angie Debo can tell it. A proud and gifted people, one of the Five Civilized Tribes of American Indians, the Choctaws were forced to leave their ancestra homelands in the South and move to what is now Oklahoma. Their subsequent efforts from the Civil War to the close of the nineteenth century to maintain an autonomous government and institutions form a uniqe and arresting chapter in the history of the West.
Softcover. 314 pages.
---
You might also like...