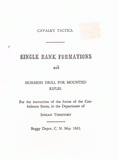 Cavalry Tactics: Single Rank Formations and Skirmish Drill for Mounted Rifles for the instruction of the Forces of the Confederate States in the Indian Territory Boggy Depot, Cn. May 1863.
Oklahoma Historical Society
$1.00
Reprinted by the Oklahoma Historical Society in 1994 and offered at a special price. 37 pages. Paperback.
---
You might also like...