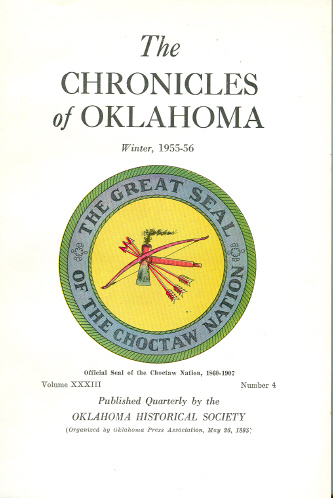 The Chronicles of Oklahoma Vol. 33-4 1955
Oklahoma Historical Society
$7.00
This issue includes: 'The Great Seal of the Choctaw Nation by the Editor, Tewah Hokay by Muriel H. Wright, Immigrants in the Choctaw Coal Industry by Stanley Clark, The Hook Nine Ranch in the Indian Territory by Ellsworth Collings, Fred Severs Clinton by Louise Morse Whitham, John D. Benedict, in the Indian Territory by Muriel H. Wright, William Pollock, Pawnee Indian Artist by Frank F. Finney, Billy Bowlegs by Carolyn Thomas Foreman, Some Recollections by James K. Hastings, Notes and Documents, Book Reviews, Minutes.
The Chronicles of Oklahoma, first issued in 1921 as the official journal of the OHS, is mailed to members and subscribers four times a year. Each issue contains at least five scholarly articles; subjects range from Indians and earliest settlement to railroads and the twentieth century. Each issue is well illustrated with historic photographs offering a visual picture of the past. Also included are book reviews, notes, documents, and minutes of the quarterly meetings of the OHS Board of Directors. Volumes 1-20 may be viewed online at the Oklahoma State University Electronic Publishing Center. '
---
You might also like...